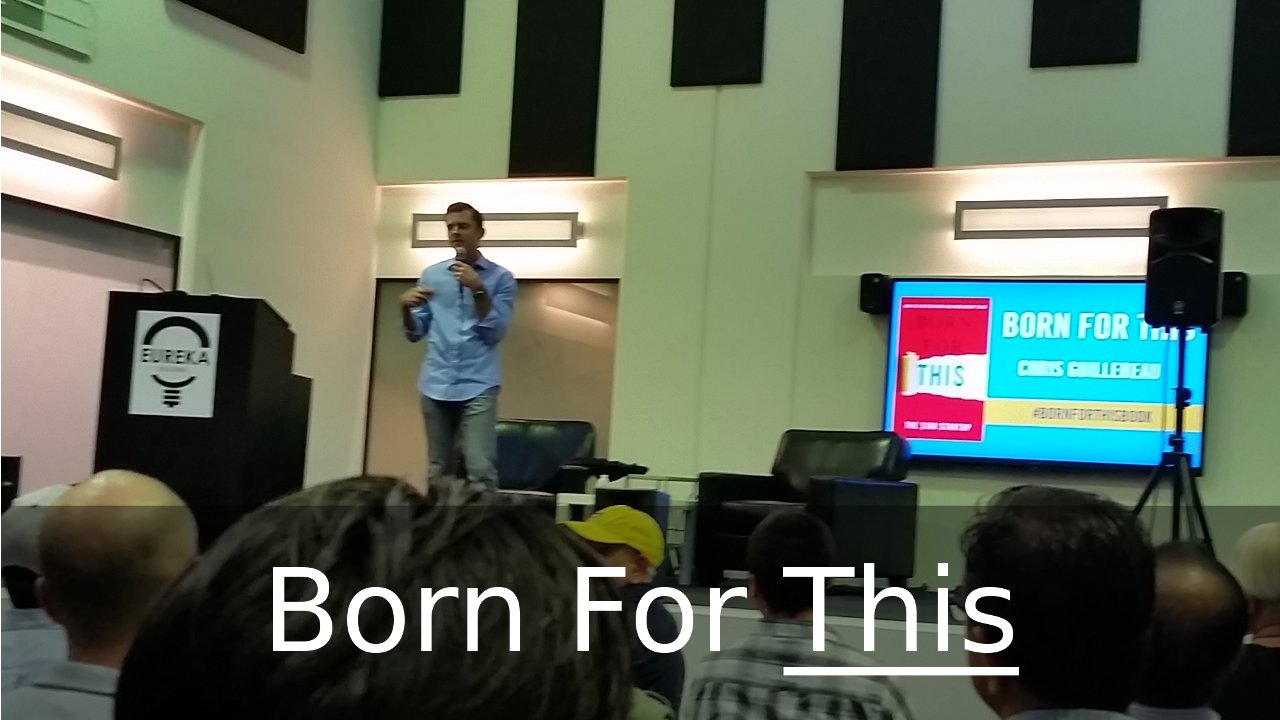 Last night was the fourth stop on the book launch tour  for Chris Guillebeau and his new book "Born for This" at the Eureka Building in Irvine. I've. been following Chris for a while and bought his program on maximizing your frequent flyer miles. I guess because I bought one of his programs, I got put on the gift list for a pre-publication copy of "Born For This", with typos and poorly phrased sentences included at no extra charge.  (That's what the letter said.  I just thought it was cool to get a pre-publication copy.)
Then, to my surprise, on the release date I received a free copy of the released book. I wasn't about about to miss someone a chance to go see somone who works that hard to keep their raving fans raving, So, when he was in town, I was there.
The Main Presentation
Harry Campbell of theRideshareGuy.com (see page 149 of the book) lives nearby in Huntington Beach, and he showed up too. Harry looked a little surprised that someone in the audience actually applauded when his name was mentioned. I've been following his blog for a while and am quite impressed with how he has actually turned it into a full time business. And, I am especially impressed since he only started it about two years ago. So, yeah, when his name was mentioned, I thought some polite applause was appropriate.
Chris did a nice slideshow presentation that summarized and complemented the book nicely. I can't really do it justice here.   Just try to catch him on the tour.
In the question and answer session, I commented to Chris that "The nice thing about being in a cage is that you get fed regularly." a metaphor for being trapped in a job by the fear of losing your steady income. I felt very proud of it and Chris even mentioned that he would like to use it at some point in the future. (You're welcome to it Chris, just credit it please) But he pointed out that you can start with a side hustle – it might even turn in to full time business like Harry's did. He also pointed out that entrepreneurship may be more secure than a job. Frankly, I know hes right about that. I've been there before. I crashed and burned and have been afraid to fly ever since. But the reality is that I was more secure with multiple sources of income through my business that I am with a single employer. To be fair, I have several side hustles going on now and my real problem is that its really hard to grow them while having another job that takes up most of my time.
Chris, being the author of "The $100 Startup" and the founder of "The World Domination Summit" is a superstar in the blogging and entrepreneurial communities, but Harry is more approachable. He's doing well, but not so well that he is swarmed by people when he shows up to an event. There was a ring around the table as Chris was signing copies of his book, but only five or six of us around Harry. For me, Harry's talk about what he did to get his blog going was more valuable that Chris' talk. (Ok, Chris, you created the whole thing and you brought Harry.   Its not that I don't love you and the book, its that my problem right now is TRAFFIC.)
The Rideshare Guy and Traffic Tips
Funny thing, when it was Harry's turn to talk, he stood on the floor rather than getting up on the stage.  He said he preferred the "baby stage."  When you can drive 500,000 page views a month, its time to step up to the big stage.
Now, Harry picked an opportune time to start his blog. He said he searched the internet and didn't find anything like it, but there were already about 100,000 drivers on the road. My guess is that somebody out there somewhere HAD started something, but hadn't taken the action to really get it going. Regardless, rideshare was still young, and its good to get on the train before it leaves the station.  But massive action is crucial, and Harry clearly took action. This wasn't the first blog that Harry had done, he had maybe six projects before that had not succeeded, but at least they honed his writing skills.
The key to building traffic, he said, was thinking about where his target audience hung out and going there. So, for example, Lyft and Uber had online forums for their drivers. Harry also found that the customer support wasn't very good, so he made a point of finding the right answers to the most common questions and posting them in his blog. Then when people would ask about it, he would give an answer that he had written about it in his blog and include a link.
I had an opportunity at the end of the event to get a picture with Chris and/or Harry. For some reason, I was taking pictures instead of getting them taken. I think I have a fear of looking like a groveling groupie, but a picture or two would be better for the blog.
Takeaways
1) Life is too short to be doing work you hate. Search for a combination of Flow, Joy and Money in your occupation. Persistence is important, but don't be afraid to change course if it isn't working. (I think this really should be persist in taking action, but don't be afraid to adjust your course) Buy Chris' book for more details.
2) If you're starting a blog, you need to put some boots on the ground to get traffic. Don't expect it to start flowing from Google. Write regularly, but promote more regularly. Go where your potential fans will be and help them.  Let them know where to find you.  They will start to follow you.
3) Get over your stupid fears and take action. Get pictures with all the people you meet. Get video for that matter. Don't let the risk of appearing awkward stop you. In the future, when you become hugely successful, they will appreciate being able to say they knew you when…and having photographic proof.
4) Go to events. Meet people. Network. You will be inspired and it will help you create more. Plus, the connections you make will be crucial to help you in whatever you do.